Certexams.com updated A+ Lab Simulator.
The Practice Lab for CompTIA A+ will provide you with the necessary platform to gain hands on skills in fundamental computer technologies. This Practice Lab for CompTIA A+ core2 focuses on the practical aspects of the CompTIA A + core2 exam objectives. By completing the lab tasks, you will improve your practical skills in supporting, installing, configuring and maintaining Operating Systems, maintaining Microsoft Windows and troubleshooting Microsoft Windows and networks, managing users, workstations and shared resources, security and implementing operational procedures.
Several lab exercises are made available with the lab simulator. Complete list of labs is available with the Labs Manual of the downloaded software.
View sample lab exercises here : Available COMPTIA A+ Labs
Recently A+ Lab simulator is updated with adding few more labs on Windows 10 OS
1. Manage Location services in Windows 10
2. Manage app permissions for camera in Windows 10
3. Auto Lock using Screen Saver in Windows 10
4. Uninstall or remove apps and programs in Windows 10
5. To stop automatic updates in Windows 10
Check out the A+ LabSim and download a free demo to explore further.
Figure below shows a screenshot of the sample lab manual window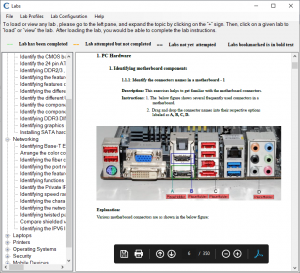 CompTIA® A+ Core 1 Certification Exam Cram Notes available here.
https://www.examguides.com/Aplus-Core1/aplus-core1-1.htm
CompTIA® A+ Core 2 Certification Exam Cram Notes available here