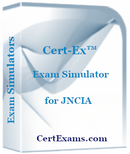 JNCIA Cram Notes are provided free with every purchase of JNCIA Exam Simulator.
Other Recommended Products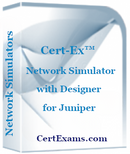 CertExams.com's Cert-Ex™ JNCIA-Junos Exam Simulator conform to the latest exam objectives. The question types include multiple choice, true/false, drag-n-drop, etc. that are typically found the actual cert exam. The online exams offered by CertExams.com include 250+ highly relevant questions with detailed answers.
The practice exams offered by CertExams.com are offered in two modes. A. Online version, and b. Downloadable version. In the online version, a user need to take the tests online after logging in to the website (Internet connectivity is required). In the download version, a user may download the examsim, and take the test on his/her desktop computer.
JNCIA (JN0-104) Exam Details*
Exam#

JN0-104

Exam Name

JNCIA-Junos

Number of questions

65 multiple-choice questions

Time allowed

90 minutes

Exam objectives

Click here to visit official exam site

Exam Format

Linear

Exam objectives covered

1. Networking Fundamentals
2. Junos OS Fundamentals
3. User Interfaces
4. Junos Configuration Basics
5. Operational Monitoring and Maintenance
6. Routing Fundamentals
7. Routing Policy and Firewall Filters


Watch product video
Please contact sales[at]certexams.com for academic pricing for bulk licenses.
* It is recommended that you verify with the official Web site for current and exact information.
For any suggestions or comments please e-mail support at certexams.com
Retired Exams:
Cert-Ex™ Exam Simulator for JNCIA-Junos (JN0-103)