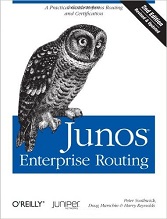 Title: Junos Enterprise Routing: A Practical Guide to Junos Routing and Certification
Author: Peter Southwick, Doug Marschke, Harry Reynolds
Publisher: O'Reilly Media; Second Edition edition (June 28, 2011)
Considered the go-to study guide for Juniper Networks enterprise routing certification exams, this book offers you unparalleled coverage of all the services available to Junos administrators—including the most recent set of flow-based security services and design guidelines that incorporate services and features of the MX, SRX, and EX network devices.

Its emphasis on practical solutions also makes this book an ideal on-the-job reference for design, maintenance, and troubleshooting issues in the enterprise. Simply put, this updated edition is the most comprehensive and authoritative resource for Juniper enterprise and edge routing environments you will find. Topics include:
Design guidelines for the entire Juniper enterprise router lineup (M-series, MX Mid-Range series, and SRX)
Junos interfaces, with advanced troubleshooting techniques
The IGP and BGP routing protocols and the implementation of routing policies
Security concepts, and the tools to deploy them
Layer 2 services, IP Class of Service, and IP
Multicast with working case studies of each
Coverage of flow-based Junos security services
Paperback: 770 pages
Language: English
ISBN-10: 1449398634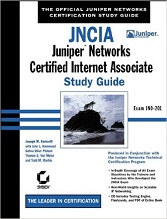 Title: JNCIA: Juniper Networks Certified Internet Associate Study Guide
Author: Joseph M. Soricelli, John L. Hammond, Galina Diker Pildush, Thomas E. Van Meter, Todd M. Warble
Publisher: Sybex (February 3, 2003)
From the Back Cover
Here's the book you need to prepare for the JNCIA exam, JN0-201, from Juniper Networks. Written by a team of Juniper Network trainers and engineers, this Study Guide provides:
Assessment testing to focus and direct your studies
In-depth coverage of official test objectives
Hundreds of challenging practice questions, in the book and on the CD
Authoritative coverage of all test objectives, including:
Working with the JUNOS software
Implementing Juniper Networks boot devices
Troubleshooting Routing Information Protocol
Implementing a routing policy
Configuring and monitoring an OSPF Network
Implementing Border Gateway Protocol
Monitoring and troubleshooting an IS-IS network
Understanding the Reverse Path Forwarding process
Operating firewall filters
Using Multiprotocol Label Switching
Series: Study Guides (Sybex)
Hardcover: 640 pages
Language: English
ISBN-10: 0782140718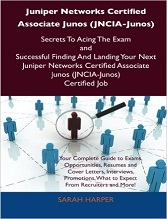 Title: Targeting JNCIA: Study Guide for Exam JN0-201
Author: Jeff Ringwelski
Publisher: AuthorHouse (August 11, 2003)
Targeting JNCIA Study Guide for the Juniper Networks Certified Internet Associate written exam (JN0-201). Get ready to pass the first of the new certification examinations available from Juniper Networks with Targeting JNCIA. Juniper Networks supplies cutting edge networking hardware and their new Technical Certification Program gives a bench mark measurement necessary for ensuring competence when working with these technologies.
This book will enable you to tackle the networking concepts and troubleshooting problems encountered on the JN0-201 exam. Topics include Juniper Networks platform architecture, hardware, packet-flow, Juniper Operating System (JUNOS), dynamic routing protocols (RIP, OSPF, IS-IS, BGP), Multi-protocol Label Switching (MPLS), Multi cast, and routing policy.
Chapters are broken down into easily understandable segments that cover the background, theory, and applications of each portion of the technology as needed for the examination. Key points of importance are reviewed at the end of every section along with references for additional detailed information. Over 100 sample quiz questions test your knowledge of the concepts most relevant to the exam.
Paperback: 288 pages
Language: English
ISBN-10: 1410764958
ISBN-13: 978-1410764959