Learning and Assessment Software (LAAS) is a eLearning software consists of 3 main modules, namely, author module, exam module, and learning module.
The author module provides authors to input content which may consist of questions & answers, course notes, and multimedia. Several file formats are supported for inputting content, including text, pdf, audio, video, and multimedia.
The exam module provides a way to deliver exams to the intended users. Several question types such as multiple choice MCQs, and drag n drop are supported. The configuration screen enables the examiner or the author to configure exam delivery options such as time allowed, proctoring, and screen capture.
The learning module is basically a course delivery engine that provides course content to the candidates. Several types of content is supported, including multimedia content.
Create new exam : This feature is used to create a new exam database for entering the question. (Please note only administrator can create a new exam).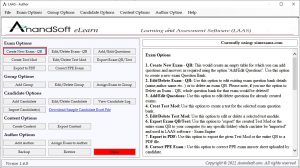 To add a new exam use "Create New Exam – QB" button. A exam creation from will be displayed as shown below. Select the exam type as "Online" or "Paper Pen Exam".
Here admin needs to provide following information:
Exam Name : A relevant name which will be used by admin to identify the exam at any time.
Exam Number (Optional) : In case the exam to be created needs a specific exam number it can be provided in this field.
Author Name : Author name should be provided in this field.
Please check this for complete help on using the LAAS software here