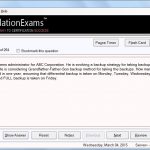 Certexams.com is excited to announce the comprehensive update of our Server+ practice tests, designed to provide IT professionals with the most effective and reliable preparation resource for the Server+ certification exam. With a thorough review and update of the question bank, our practice tests now offer an enhanced learning experience, ensuring that you are fully equipped to excel in the Server+ exam.
The update of our Server+ practice tests focuses on two key aspects: accuracy and relevance. Our team of experienced professionals has meticulously reviewed and updated each question in the database to ensure that it aligns with the latest Server+ exam objectives and industry standards. This rigorous review process guarantees that you are practicing with the most up-to-date and accurate content, giving you the confidence to face the real exam with ease.
Moreover, the update includes the addition of new questions to our practice tests. These new questions cover a wide range of topics, including server hardware, virtualization, storage, security, and troubleshooting. By expanding our question bank, we aim to provide you with a comprehensive and diverse set of practice questions, enabling you to thoroughly test your knowledge and skills in all the key areas of the Server+ exam.
In addition to the updated question bank, our Server+ practice tests provide detailed explanations for each question. These explanations not only reveal the correct answer but also provide in-depth insights into the reasoning behind the answer. This allows you to understand the underlying concepts and principles, reinforcing your knowledge and helping you grasp the subject matter more effectively.
Furthermore, our practice tests offer customizable features, allowing you to tailor your practice sessions according to your preferences. You can choose to focus on specific domains, set time limits for each practice session, or simulate the real exam environment. This flexibility ensures that you can practice at your own pace and simulate the actual exam conditions, maximizing your preparation efficiency.
By updating our Server+ practice tests with a thorough review and incorporating new questions, Certexams.com reaffirms its commitment to providing IT professionals with the most reliable and effective exam preparation resources. Our practice tests are designed to not only assess your knowledge but also enhance your understanding of the Server+ exam objectives, ultimately helping you achieve success in your certification journey.
Whether you are a seasoned IT professional or just starting your career, Certexams.com's Server+ practice tests will serve as an invaluable tool in your exam preparation. With accurate and updated content, detailed explanations, and customizable features, our practice tests empower you to confidently approach the Server+ certification exam, opening doors to new career opportunities and professional growth.
Embrace the power of Certexams.com's updated Server+ practice tests and embark on your journey towards exam excellence. Prepare with confidence, knowing that you have a trusted resource that will equip you with the knowledge and skills needed to succeed in the Server+ certification exam.
You may be interested in related blog entries:
Server+ Certification Blog
Server+ Interview Questions
Also checkout Server+ study notes from tutorialsweb.com
Disclaimer: Cert-Ex™ Exam Simulators, Cert-Ex™ Network Simulator, Cert-Ex™ Cheatsheets are written independently by CertExams.com and not affiliated or authorized by respective certification providers. Cert-Ex™ is a trade mark of CertExams.com or entity representing Certexams.com.Server+™ is a trademark of CompTIA® organization.