A VPN, Virtual Private Network extends a private LAN across a public Internet, and enables users to send and receive data across the Internet or public networks as if their computing devices were directly connected to the private LAN.
Many times, we come across Virtual Private Networking, widely known as VPN. Some well known VPN providers are:
Windscribe: (https://windscribe.com)
Windscribe's provides 19GB data allowance and privacy commitment are good and important features are as given below:
10 GB data a month
Appears that they don't store connection logs, IPs or visited sites
Extra 5GB if you tweet about the service
Built-in adblocker and firewall
Access to Netflix
2. ProtonVPN: (https://protonvpn.com) 
No bandwidth caps on data
Access to servers in the Netherlands, Japan, USA, and Switzerland
No logging
The speed is slow for free users
3. Betternet (https://www.betternet.co/):
No logging policy
"Free-forever" promise – you can use its VPN for as long as you want
No data limit
Available for Mac, Windows, Android, Chrome, and Firefox
Can't choose the server you want to connect in free version
No malware firewall
4. TunnelBear (https://www.tunnelbear.com)
It is a decent service with limited data transfer per month for free users.
After a brief review of the VPN providers, we get back to our primary question. What is VPN and why is it recommended for accessing the websites over the Internet or for communicating over public networks?
One of the most widely known advantage of VPN is data security while in transmission. Normally, all the information that you send and receive on the Internet is not encrypted and any one can see. VPN enables encryption between end points so that only the originator and the recipient can see the data. Others in the chain will not be able to see the information as it is encrypted. Another advantage is anonymity. If you are browsing Internet using VPN connection, the remote server will known only the IP address of your VPN provider and not your public IP. One advantage of this that hackers will not be able to break into your system, if you happen to visit a malicious website by chance.
There are two types of VPN, one is end-to-end VPN and the other is Site-to-site VPN. In end to end VPN, the VPN is effective between the user computer and the remote server which the user is accessing. In site to site VPN, the encryption is provided between the gateway routers/firewalls. Internal to the organization, there is no encryption offered in site to site vpn. There is another sub class of VPN, which is called remote to site VPN. Remote to site VPN is useful for remote workers accessing their head office. Here the VPN is provided from the remote computer to the head office firewall. A remote to site VPN may use any of the two ways to setup. One is browser based, that is the browser uses a certificate (uses https) for connectivity and the other method is to have a VPN client installed on the remote computer. In the former, you don't have to install any separate software for secure connection. In the later case, you need to install VPN client provided by the VPN provider. It is relatively easy to setup VPN in Windows 10 as demonstrated in the example below:
Step 1: First create a VPN by specifying a name by going to Control Panel -> Network and Internet -> Network and Sharing Center
Then click on "Setup a new connection or a network", you will be prompted with a screen as below: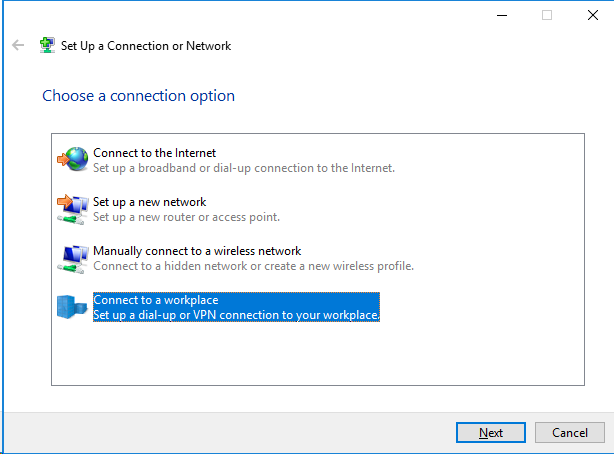 You have option to choose existing VPN (if one is already configured) or create a new connection. Provide the credentials as prompted and the VPN is through. After creating the VPN connection, you should be able to see it by going to Control Panel\Network and Internet\Network Connections. See or edit the properties of the VPN connection as required. A typical property window is shown below: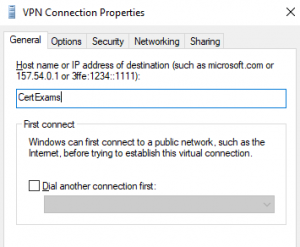 Check the parameters on Securty and Networking tabs in the event of any problems with connectivity. Make sure that proper connectivity parameters, like type of VPN (L2TP, PPTP, ikev2, etc and Authentication are configured properly in the Security tab. Other options are very similar to networking connections without VPN.
The CCNA netsim, a virtual networking software, provides examples of VPN implementation using VPN. Check out the free demo here:
http://routersimulator.certexams.com/ccna-simulator-download/download-network-simulator-designer.html
Note that the software, though intended for users preparing for CCNA cert, is useful as a general networking learning tool.