Learning and Assessment Software  (LAAS)"  provide eLearning tools to students, institutes, and organizations. The software is a total solution for any business or academic institution that wants to offer content and assessment examinations online. The software consists of four modules as mentioned below:
Author module
Content module
Exam module
Reporting
Features of Exam Engine (Module) is explained below.
The exam module is responsible for delivering assessment tests to the candidates as chosen by the author. Questions may consist of simple text/html, pdf, exhibit-based, or multimedia. For additional details on exam engine features, please visit the exam engine home page. It allows user t add any number of Test Modules created using Author engine.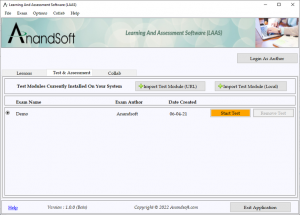 Exam Screen : This section will describe how exactly the questions will be presented to candidate and the options available to help him take exam.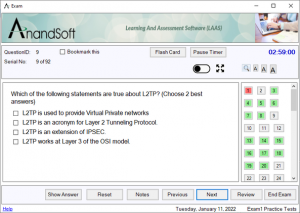 For more details and downloading the software visit here