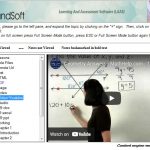 Certexams.com is glad to announce LearnSoft – Learning and Assessment System for schools, colleges, and organizations. The system consists of 3 main modules, namely, author module, exam module, and learning module.
The author module provides authors to input content which may consist of questions & answers, course notes, and multimedia. Several file formats are supported for inputting content, including text, pdf, audio, video, and multimedia.
The exam module provides a way to deliver exams to the intended users. Several question types such as multiple choice MCQs, and drag n drop are supported. The configuration screen enables the examiner or the author to  configure exam delivery options such as time allowed, proctoring, and screen capture.
The learning module is basically a course delivery engine that provides course content to the candidates. Several types of content is supported, including multimendia content.
Free demo is available with which one can try the system by installing and using the software. Please visit the website for more information:
LearnSoft – Learning and Assessment System for trying the product.
The content delivery supports both desktop and mobile devices. One may download whichever software is required from the website.
Important features:
Supports desktop, tab, and mobile devices.
Supports Windows, Android, iOS, and MAC machines
Proctored exam
Screen capturing to prevent cheating in exam
Both online and offline modes
Works both on public Internet and intranet.
Can embed youtube videos into the content
Please email us at sales(at)anandsoft.com for more information and free demo account.