A+ lab Simulator helps to reinforce A+ exam topics and develop and enhance the hands-on skills needed to succeed on the exam. This state-of-the-art interactive simulation software presents you with 100+ challenging labs that help you learn by doing, which is the most effective method of learning. LabSim includes fundamentals of computer technology, installation and configuration of PCs, laptops and related hardware, and basic networking. The LabSim will be useful for candidates preparing for networking certifications like A+, Network+, etc.
Certexams.com, a leading network simulators and lab simulators provider, recently updated Comptia A+ lab sim to comply with the latest exam objectives. As you are probably aware, Comptia has released A+ Core 1 and A+ Core 2 exams in place of erstwhile A+ Essentials and A+ Practical Applications exams. There is more emphasis on the mobile devices and vitalization in the new objectives, in line with the recent technology trends.
The labs included with this revision are listed below:
Identify the graphics card and insert it into appropriate slot on the motherboard
Installing SATA hard drive to appropriate slot on the motherboard
Setting up and uploading files to OneDrive in Windows 10
Backup files to another drive in Windows 10
Restore the files backed-up before in Windows 10
Formatting hard drive in Windows 10
Turning On/Off BitLocker for Data Drive in Windows 10
Installing/Updating graphic card driver in Windows 10
Creating a team using Microsoft Teams
Joining a meeting using Microsoft Teams
Lab exercises -currently 100+ labs are included. The demo version is limited to a fewer labs.
The screen shot shows various labs available in the lab sim. The topics include identifying various motherboard components and connectors, various types of memory cards, and add on cards, identifying network requirements and configuring simple home/small business networking, identifying, configuring and troubleshooting mobile devices, and several chapter-end questions.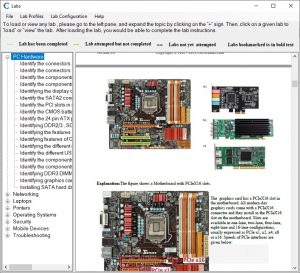 View sample lab exercises here :Available labs
Detailed Lab Manual provided.
Detailed help files that provide step by step instructions on using the simulator have been provided.
Several new features such as
Ability to enable/disable navigation buttons
Administrator login for lab profiles configuration
Saving and reloading half completed labs
Resetting individual and all labs to default
Marking not attempted, not completed , completed labs in different color for easy identification.
Bookmarking individual labs.
Bookmarking all labs under selected section
The demo software has all the features of the full version, but limited to a few number of labs. Full version may be activated online using the link below:
http://routersimulator.certexams.com/Aplus-labsim/download-aplus-lab-simulator.html
Disclaimer: Comptia® is a registered trademark of comptia® organization. Comptia A+® is a trademark of Comptia and duly recognized.