Cisco CCNA Associate-Level Cisco Career Certification, Achieving CCNA certification is the first step towards growing in the IT industry. To earn ccna certification the candidate should pass cisco ccna 200-301 that covers a broad range of fundamentals for IT careers, based on the latest networking technologies, software development skills, and job roles. The new ccna 200-301 test includes security, automation, and programmability. It tests the candidate's skills and knowledge related to the following topics.
Network Fundamentals

Network Access

IP Connectivity

IP Services

Security Fundamentals

Automation and Programmability
CertExams is a famed website offering the online training for Cisco CCNA, Includes practice exam simulator and CCNA GUI based network simulator according to the new objectives. Provides advanced router/switch network simulator functionalities including VLAN, VTP, InterVLAN communication, RIP v2, OSPF and WAN protocol simulation. Netsim consists 100s of networking lab exercises for ccna and exam simulator offers more than 500 example questions and answers. Get the demo version of CCNA simulator for labs practice and to test your knowledge on ccna topics.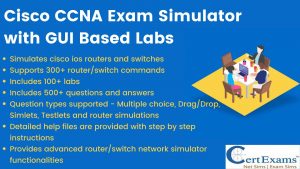 Features of CCNA Simulator:
Includes 100+ exercises on ccna topics like NAT, OSPF, EIGRP, Access list and others.

Detailed help files are provided with step by step instructions.

Offers 500+ practice questions with detailed answer flash cards.

Supports 300+ router/switch commands.

Simulates cisco ios routers and switches, supports 17xx, 25xx, 26xx, 36xx, routers and 19xx, 29xx switches.

Supports practice questiobs like multiple choice, simlets,  testlets and router simulations.
Learn mode helps to practice the questions with answers.
Exam mode helps to test your knowledge in the real exam environment.
Review mode helps to save the test results for future viewing purposes.
About Certexams.com: Certexams is a leading website that offers exam simulator and network simulator provide vendor fir cisco certifications like ccna, ccnp and others. Exam simulator offers practice questions with verified answers and network simulator offers practice labs.
Disclaimer: Certexams is neither associated nor affiliated with cisco systems, inc. Or any other companies. CCNA is the tardemark of cisco systems and duly acknowledged. Exam simulator and network simulator is the copyright of certexams.com and the same is not approved or endorsed by respective certifying bodies.