The GNC simulates Cisco CP (T) , enabling users to configure and troubleshoot a network using self explanatory navigation pane.
A default network diagram is provided for practicing the labs, which may be viewed by clicking on the N/w Diagram button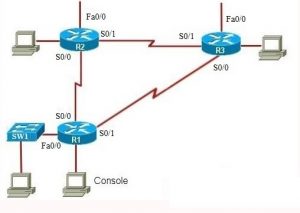 Advanced users can design a Cisco router/switch network using Network Designer module, then configure the same using the Network Simulator module (either CLI or GNC). The configuration may be saved for future reference or for further changes. However , note that the config files generated may not be used for configuring real devices, as the software is intended for learning purpose only
User may select a different network diagram to be used by going to the "Lab Manual" button and selecting the required lab.
A user may switch between CLI and Graphical Network Configurator modes interchangeably.
Certexams.com updated its CCNA Network Simulator by adding WLAN controller GUI labs.
Limited features are made available in the simulator based on CCNA Exam Syllabus.
WLC Controller Main window is shown below
For detailed functionality and configuration guide for  WLAN controller download the following CCNA Network Simulator
Also check out this CCNA Exam Simulator have been updated with wireless simulator labs  to confirm latest exam objectives.
Check this document for Cisco WLC controller 2100 series upgrade