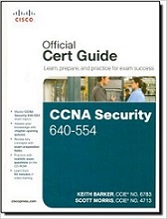 Title: CCNA Security 640-554 Official Cert Guide
Author : Keith Barker
Publisher: Cisco Press; 1 edition (July 16, 2012)
Hardcover: 700 pages
Language: English
ISBN-10: 1587204460
CCNA Security 640-554 Official Cert Guide presents you with an organized test preparation routine through the use of proven series elements and techniques. "Do I Know This Already?" quizzes open each chapter and enable you to decide how much time you need to spend on each section. Exam topic lists make referencing easy. Chapter-ending Exam Preparation Tasks help you drill on key concepts you must know thoroughly.
Master Cisco CCNA Security 640-554 exam topics
Assess your knowledge with chapter-opening quizzes
Review key concepts with exam preparation tasks
Practice with realistic exam questions on the CD-ROM
The official study guide helps you master all the topics on the CCNA Security IINS exam, including:
Network security concepts
Security policies and strategies
Network foundation protection (NFP)
Cisco Configuration Professional (CCP)
Management plane security
AAA security
Layer 2 security threats
IPv6 security
Threat mitigation and containment
Access Control Lists (ACLs)
Network Address Translation (NAT)
Cisco IOS zone-based firewalls and ASA firewalls
Intrusion prevention and detection systems
Public Key Infrastructure (PKI) and cryptography
Site-to-site IPsec VPNs and SSL VPNs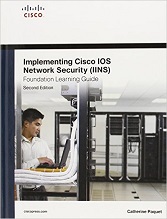 Title: Implementing Cisco IOS Network Security (IINS 640-554) Foundation Learning Guide
Author: Catherine Paquet
Publisher: Cisco Press; 2 edition (December 10, 2012)
Implementing Cisco IOS Network Security (IINS) Foundation Learning Guide, Second Edition, is a Cisco-authorized, self-paced learning tool for CCNA® Security 640-554 foundation learning. This book provides you with the knowledge needed to secure Cisco® networks. By reading this book, you will gain a thorough understanding of how to develop a security infrastructure, recognize threats and vulnerabilities to networks, and mitigate security threats.

This book focuses on using Cisco IOS routers to protect the network by capitalizing on their advanced features as a perimeter router, firewall, intrusion prevention system, and site-to-site VPN device. The book also covers the use of Cisco Catalyst switches for basic network security, the Cisco Secure Access Control System (ACS), and the Cisco Adaptive Security Appliance (ASA). You learn how to perform basic tasks to secure a small branch office network using Cisco IOS security features available through web-based GUIs (Cisco Configuration Professional) and the CLI
on Cisco routers, switches, and ASAs.
Hardcover: 704 pages
Language: English
ISBN-10: 1587142724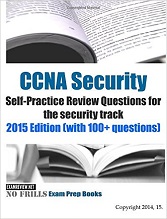 Title: CCNA Security Self-Practice Review Questions for the security track
Author: ExamREVIEW
Publisher: CreateSpace Independent Publishing Platform; Lrg edition (February 15, 2015)
The new CCNA Security Exam 640-554 IINS is an associate level exam that can earn you the CCNA Security certification. The certification aims to allow one to demonstrate the skills required to develop a security infrastructure, recognize threats and vulnerabilities, and mitigate these accordingly.
We create these self-practice test questions referencing the concepts and principles currently valid in the exam. Each question comes with an answer and a short explanation which aids you in seeking further study information. For purpose of exam readiness drilling, this product includes questions that have varying numbers of choices. Some have 2 while some have 5 or 6.
We want to make sure these questions are tough enough to really test your readiness and draw your focus to the weak areas. Think of these as challenges presented to you so to assess your comprehension of the subject matters. The goal is to reinforce learning, to validate successful transference of knowledge and to identify areas of weakness that require remediation.
The questions are NOT designed to "simulate" actual exam questions. "realistic" or actual questions that are for cheating purpose are not available in any of our products.
Paperback: 110 pages
Language: English
ISBN-10: 1508496188