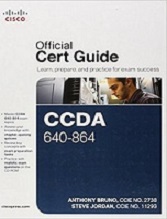 Title :CCDA 640-864 Official Cert Guide (4th Edition)
Author : Anthony Bruno, Steve Jordan
Publisher : Cisco Press; 4 edition (July 4, 2011)
CCDA 640-864 Official Cert Guide, focuses specifically on the objectives for the Cisco CCDA DESGN exam. Expert networking consultants Anthony Bruno and Steve Jordan share preparation hints and test-taking tips, helping you identify areas of weakness and improve both your conceptual knowledge and hands-on skills. Material is presented in a concise manner, focusing on increasing your understanding and retention of exam topics.
The official study guide helps you master all the topics on the CCDA DESGN exam, including:
Network design methodology

Network structure models

Enterprise LAN and data center design

Enterprise network virtualization

Wireless LAN design

WAN technologies and design

IPv4 and IPv6

RIP, EIGRP, OSPF, and BGP

Route summarization and route filtering

Security solutions

Voice and video design

Network management protocols
Hardcover: 768 pages
Language: English
ISBN-10: 1587142570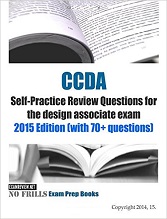 Title: CCDA Self-Practice Review Questions for the design associate exam
Author: ExamREVIEW
Publisher: CreateSpace Independent Publishing Platform; Lrg edition (March 2, 2015)
The 640-864 DESGN Exam covers: Describe the Methodology used to design a network Describe network structure and modularity Describe network architecture for the enterprise Design Basic Enterprise Campus Networks Design Enterprise Edge and Remote Network Modules Design IP Addressing and Routing Protocols Design network services We create these self-practice test questions referencing the concepts and principles currently valid in the entry level exam.
Some of the easy-to-miss tech details are covered as well. Each question comes with an answer and a short explanation which aids you in seeking further study information. For purpose of exam readiness drilling, this product includes questions that have varying numbers of choices.
Think of these as challenges presented to you so to assess your comprehension of the subject matters. The goal is to reinforce learning, to validate successful transference of knowledge and to identify areas of weakness that require remediation.
The questions are NOT designed to "simulate" actual exam questions. "realistic" or actual questions that are for cheating purpose are not available in any of our products.
Paperback: 78 pages
Language: English
ISBN-10: 1508693404